Japanese Sake & Food Distributer | The Cherry Company
Kubota 30th Anniversary Exclusive Sake – Junmai Daiginjo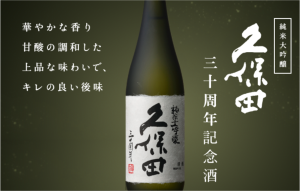 Celebration sake of Kubota 30th anniversary sought after "Magnificence of New Taste."
A hint of western pear and melon with an elegant fragrance, a harmony of fruity and acidic balance gives a pleasant mouth-feel. This Junmai Daiginjo sake has a distinctive feature of Kubota, even more smooth and clean texture with crisp flavor leaves a comfortable afterglow.
Product Detail

Item :#6375
S.M.V :+0.0
Acidity: 1.3
Alcohol : 15%
Rice Polishing : 50%
Region : Niigata
Brewery : Asahi Shuzo

← Click Here

Comments (Close):

0

Trackbacks (Close):

0
Kinushiro Junmai Nigorisake

This is not your typical unfiltered sake as it swooshes through the palate smooth as silk. This attractive cobalt blue bottle with flowers fluttering in the background perfectly foreshadows the contents of this beverage. Talk about suave and elegant, Kinushiro is velvety and creamy but still soft and airy. This delicate brew has gentle sweetness and refreshing finish that pairs well with a variety of dishes.

Item Information


Item :#6172
S.M.V. :-40.0
Acidity : 1.2
Alcohol : 10%
Region : Hyogo
Brewery : Kikumasamune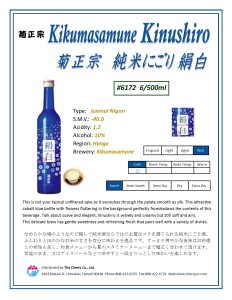 ← Click Here

Comments (Close):

0

Trackbacks (Close):

0

Hokiyama Hamono "Tosa" Carbon Steel Knives
This is Traditional handmade Tosa Knives. Tosa Knives uses the best steel called Yasuki carbon (White Carbon) steel and iron are carefully molded together by using super-hot heat. This changes the atoms in the chemical structure of the steel resulting a super sharp knife.
Carbon steel decides how hard the knife will be. This knife has high carbon rate with low Phosphorus and Sulfur which are considered as impurities. After heating HRC rate at 63 makes for a sharp knife that doesn't dull easily.
| Item # | Description | | |
| --- | --- | --- | --- |
| 91489 | Deba Hocho Hokiyama | 165mm | 6.5inch |
| 91488 | Deba Hocho Hokiyama | 180mm | 7.0inch |
| 91491 | Yanagi Hocho Hokiyama | 240mm | 9.5inch |
| 93627 | Yanagi Hocho Hokiyama | 270mm | 10.61nch |
| 91490 | Yanagi Hocho Hokiyama | 300mm | 11.8inch |
Comments (Close):

0

Trackbacks (Close):

0
Search Site

Whats New

Staff Login