Japanese Sake & Food Distributer | The Cherry Company
Kinushiro Junmai Nigorisake

This is not your typical unfiltered sake as it swooshes through the palate smooth as silk. This attractive cobalt blue bottle with flowers fluttering in the background perfectly foreshadows the contents of this beverage. Talk about suave and elegant, Kinushiro is velvety and creamy but still soft and airy. This delicate brew has gentle sweetness and refreshing finish that pairs well with a variety of dishes.

Item Information


Item :#6172
S.M.V. :-40.0
Acidity : 1.2
Alcohol : 10%
Region : Hyogo
Brewery : Kikumasamune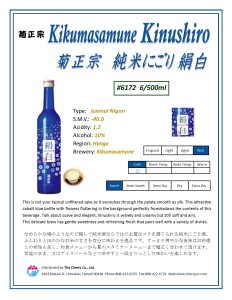 ← Click Here

Comments (Close):

0

Trackbacks (Close):

0

Hokiyama Hamono "Tosa" Carbon Steel Knives
This is Traditional handmade Tosa Knives. Tosa Knives uses the best steel called Yasuki carbon (White Carbon) steel and iron are carefully molded together by using super-hot heat. This changes the atoms in the chemical structure of the steel resulting a super sharp knife.
Carbon steel decides how hard the knife will be. This knife has high carbon rate with low Phosphorus and Sulfur which are considered as impurities. After heating HRC rate at 63 makes for a sharp knife that doesn't dull easily.
| Item # | Description | | |
| --- | --- | --- | --- |
| 91489 | Deba Hocho Hokiyama | 165mm | 6.5inch |
| 91488 | Deba Hocho Hokiyama | 180mm | 7.0inch |
| 91491 | Yanagi Hocho Hokiyama | 240mm | 9.5inch |
| 93627 | Yanagi Hocho Hokiyama | 270mm | 10.61nch |
| 91490 | Yanagi Hocho Hokiyama | 300mm | 11.8inch |
Comments (Close):

0

Trackbacks (Close):

0

Sakon Asymmetric Stainless Clad Stain-resistant Japanese standard for professionals Made in Japan
In 1982, the SAKON SHIRAUME series was developed as a new concept that harmonized the advantages of traditional carbon steel with the practical benefits of stain-resistant steel to create an outstanding knife. Over the past 2 decades, the "Uber" functionality of an asymmetric stainless clad knife has become the preferred option for professional chefs worldwide. This versatile collection was designed primarily for the preparation of fish but is equally adept at meeting the needs of other Japanese and Western style culinary tasks.
①AUS 8 has high carbon with added Molybdenum and Vanadium which combines to HRC 60 a  high wear  resistance and hard steel.
②SUS 405 is a soft steel to help sharpen the knife with easy.
③ASU 8 and SUS 405 combined with Chromium makes for a knife that's hard to rust.

| Item # | Description | | |
| --- | --- | --- | --- |
| 91492 | Deba Hocho Sakon | 165mm | 6.5inch |
| 95680 | Deba Hocho Sakon | 180mm | 7.0inch |
| 91495 | Yanagi Hocho Sakon | 240mm | 9.5inch |
| 93604 | Yanagi Hocho Sakon | 270mm | 10.61nch |
| 91494 | Yanagi Hocho Sakon | 300mm | 11.8inch |
Comments (Close):

0

Trackbacks (Close):

0
Search Site

Whats New

Staff Login